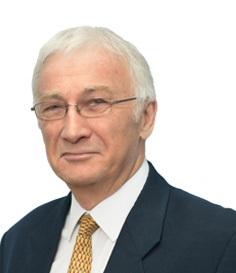 Edward Devereux (Ted)
Chairman, Spearpoint Security Group Limited
Apart from 5 years in the British Army as a regular in the Royal Corps of Signals, Ted has spent his working career in the Security Industry. He joined Hong Kong Security Limited as a Project Manager in 1973 where he gained valuable knowledge about all aspects of the security industry. Including designing and introducing the first armoured vehicles in Hong Kong following the first ever armed attack against a "soft skin" CIT vehicle.
In 1977, he Co-Founded the Guardforce Group in Hong Kong. He was appointed CEO in May 1981. The Group was sold to Chubb in 1999. Over the years he built the business throughout Asia, with offices in New York, London and Bahrain. He managed a number of key integrated security system projects, most notably:
1982 Hong Kong Bank Main Treasury
1985 Hong Kong Bank Main HQ 1 Queen's Road, Central
1995 Spearheaded the sales strategy and tender process resulting in the award of the CCTV, Access Control and Public Address systems at the Hong Kong International Airport
On the sale of the Guardforce Group to Chubb, annualized revenues were in excess of USD200 million. Ted was appointed Regional President, Asia Pacific for G4S in January 2002. He built the business from 8 countries with revenues of USD130 million to 15 countries with revenues of USD640 million by December 2010. Following a restructuring, he was appointed COO Asia Middle East January 2011. He retired in June 2011.
Ted was elected Chairman of the Hong Kong Security Association in 1986 and served until 1989. During his Chairmanship, he promoted the introduction of legislation to govern the Security Industry with the key objective of improving standards. He was elected Chairman again in 2002 and served until 2011, during which time he sat on a number of Hong Kong Government committee's to promote training needs and career opportunities within the industry and to liaise with the Industry Authority to update and improve the implementation of the licensing process.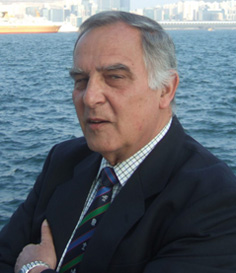 William Thomas (Bill)
Director, Spearpoint Security Group Limited
In 1962, Bill embarked upon a 33 year career as a soldier in the British Army during which he earned a Queen's Commission. He served in Northern Ireland, Europe and extensively throughout Asia, including Diplomatic Missions Overseas. During his service, Bill covered a wide range of disciplines, including macro and micro security details. Bill has seen active service, served with special forces and was a military parachutist.
In 1994, Bill left the British military and returned to Hong Kong to commence a career change in commercial security with Jardine Securicor, the forerunner to Group 4 Securicor (G4S), Asia Pacific. Bill was instrumental introducing, developing and managing Jardine Securicor Gurkha Services providing highly successful premium security services throughout Hong Kong with over 700 former Gurkha Soldiers, all provided to clients needing protection of high value assets. At the same time establishing in Nepal; recruiting, training and deployment of over 500 former Gurkhas to selected clients in trouble spots in the Middle East and Africa.
In 2002, as a G4S Asia Pacific Country Managing Director, Bill was deployed successively to Indonesia, Thailand, India and Macao with the expressed task of reorganizing the businesses, rebuilding customer confidence, and build the Manned Guarding, Cash Services and Electronic Security Systems revenue streams bringing them back to profitability. In each country, he built and developed management strengths and identified a successor to allow him to move on to the next challenge. All of which he did successfully.
Bill retired from G4S in 2012 and is based in Hong Kong.
Robert Wong
Director, Spearpoint Security Group Limited and Castillon Security (S) Private Limited
Robert worked in the security industry for more than 20 years starting his security career in the secured transportation worldwide of banknotes, gold and silver bullion and other high value cargo when he joined the FPD Guardforce Group in 1994.
Robert served as the Executive Director of Allied Guardforce Singapore and Guardforce International Hong Kong where he grew the business profitably by expanding the client base of major international banks, gold refineries and bullion houses. He left Guardforce in 2001 after the Group was acquired by Chubb.
Robert subsequently joined Via Mat International, a leading Swiss security group as General Manager, Asia and started business operations in Asia with the setting up of offices in Singapore and Hong Kong.
In 2009 Robert joined G4S Singapore as Managing Director where he built the manpower strength from 600 to more than 1000 trained security officers. Clients managed included the US Embassy, Australian High Commission, Marina Bay Sands throughout its construction stages, the Tanglin Club, SAFRA clubs and multi-national companies.
During this time Robert also served on the committee of the Association of Certified Security Agencies. He left G4S in 2011 to incorporate Castillon Security (S) Private Limited, which is now part of the Spearpoint Security Group with business activities and investments in Thailand, the Philippines and other parts of S.E. Asia.
Robert holds a Diploma in Security Management and is a licensed Private Investigator. He is also a US certified International Crime Prevention Specialist.
Simon P. Wagstaff BEM
Chairman, ASA Group Holdings Limited and Director, Spearpoint Security Group Limited
Simon has lived and worked in Asia since late 1989. He retired from the British Army in 1993 as a Senior Rank Bomb Disposal Officer with Commando Forces after nearly 20 years of service. Much of his army tenure was with the Commando Brigade, and he also has more than 3,000 parachute jumps to his credit. Simon is a veteran of the Falklands War, and he served seven tours of active duty, including covert operations, in Northern Ireland. He also served several years on active counter-terrorist duty in Europe and was awarded the British Empire Medal for Meritorious Service.
After retiring from the army he joined Guardforce Group in Hong Kong as Manager – Corporate Security, which involved carrying out detailed security audits and technical surveys on all Guardforce's security operations including banks, airports, seaports, manufacturing etc. in Hong Kong, Macau, Taiwan, Singapore, Thailand and the Philippines.
He went on to launch a new aviation security & manpower business for ICTS Asia Pacific, which was owned by the Guardforce Group, as Managing Director in the Philippines and managed all security services in Manila Airport (an FAA "extraordinary risk" airport) for both United and Northwest Airlines. He also managed the complete security master plan for Clark International Airport and Clark Special Economic Zone after conversion from Clark Air Base in Pampanga, Philippines. This new business in the Philippines grew into a concern of six companies with more than 3,000 personnel within five years.
Simon founded the ASA Group in Manila in 1999, overseeing and expanding the group to today's multi-national operations with offices in Hong Kong, Thailand, Malaysia, Indonesia and Singapore and operations in over 20 countries.
With a total of some 39 years in the military and security arena, the last 25 of which have been in Asia, Simon is one of very few people in the region with such a broad range, and depth of experience.
Simon now lives in Hua Hin, Thailand, with his family, frequently traveling throughout the world on business development and consulting project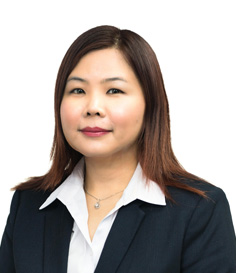 Joyce Wong
Senior Finance and Admin Manager
Joyce started her finance and accounting career in Kuala Lumpur where she acquired comprehensive training and grounding in a public accounting and audit firm.
Besides being fully responsible for the financial management and accounting functions of the Spearpoint Security Group, its subsidiary Castillon Security (S) Pte Ltd and overseas investments of the Group, Joyce oversees the daily office administration, payroll and human resources. She also coordinates company secretarial matters and annual corporate audits.
Joyce holds a Diploma in Accounting and is also the Company's representative in the Union of Security Employees.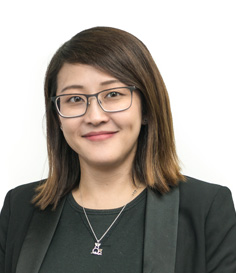 Serene Ong
Human Resources Manager
Serene manages the human resource functions in the Company and assist to oversee the staffing needs of the operations with proper processes and documentation in full compliance with official policies and guidelines.
Besides being in charge of the payroll of all security personnel ensuring accurate and timely salary payments, Serene liaises closely with the relevant government authorities and training organisations in planning the career development of security officers of all grades to develop a core of well trained and qualified security personnel to enhance the Company's security manpower capability.
Serene is a Certified Human Resource Administrator (CHRA) accredited by HRSINGAPORE.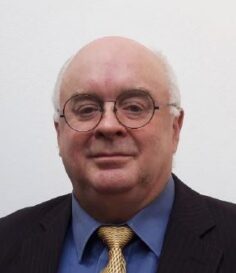 David Slater
Senior Consultant
David is a 30-year veteran with the Royal Hong Kong Police serving from 1983 to 2014 and retiring with the rank of Chief Inspector.
He served in the Marine Police where he planned and executed border security and policing operations on land and sea; and was the sole subject officer providing security advice for International Shipping and Port Security surveys.
During his service David headed the Security Companies Inspection Unit where he wrote the audit manual for 900 private security companies in Hong Kong. This audit process eventually led to amendments to the Law regulating private security organisations and implementation of standardised training programmes for the security industry in Hong Kong. David was recognized for these achievements with a Commanding Officer's Commendation and formal written recognition from the Government of Hong Kong and the Hong Kong Security Association.
After this successful period, he wrote the training materials for the Standard Crime Prevention Course and taught Crime Wing officers how to perform security surveys on major infrastructure and security facilities including airports, seaports and power generation plants; and consular, commercial and residential properties.
Since joining the private security sector David has been involved in security surveys and audits of a wide range of activities including cash processing centres, cash in transit operations, tertiary education establishments and exclusive resorts owned by high net-worth individuals. He has also surveyed production facilities in Mainland China for major U.S. Corporations and commanded Executive Protection details.
David also assesses new security products and develops specialised training programmes and security audit processes for clients around the world.
David is also a qualified Certified Counter Terrorism Practitioner and has consulted with various clients in the region on best practices in this subject.